Wildlife Garden Update
Wildlife Garden Update
30 March 2017 (by admin)
A big thank you to parents and friends who have provided plants for our 'Secret Garden'. Read more by clicking above. More photographs in Gallery.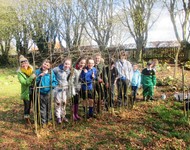 In particular we would like to thank Mrs Potter who kindly provided us with more willow and gave us some expert advice on building a new entrance tunnel. Also to Mrs MacLeod who has given us a wealth of perennial cuttings which have now been planted and look forward to watching them grow and blossom.
We have also been lucky to receive some treated wood from Allanton Saw Mill which Mr Marshall has made into two superb benches. Old tyres from Greenwoods 247 MOT and Servicing Centre have been carefully painted by the children to transform them into containers for plants and (within the next couple of weeks) a wishing well!
Finally, a very big thank you to Berwick Garden Centre who sent along a huge package of goodies including compost, vegetable seed packs, flower seeds, a bird feeder and some very necessary trowels.
All in all the gardening group have had a very busy couple of weeks and all those involved deserve a pat on the back for their very hard work.