Summer Uniform
Summer Uniform
16 March 2018 (by admin)
Summer term starts on Monday 16 April 2018, after the Easter holidays. During the summer term pupils are allowed to wear their BMS polo shirts with no tie, plain polo shirts are for PE lessons only.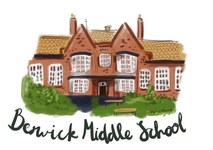 BMS embriodered polo shirts can be purchased from Border Embrioderies via their website https://www.border-embroideries.co.uk/schools/berwick-middle-school.html or from Fantasy Prints on the Ramparts Business Park or online http://www.fpuniformz.com/schools/berwick-middle-school.html
Please note full school uniform of school shirt and tie must be worn on formal occasions such as prizegiving.