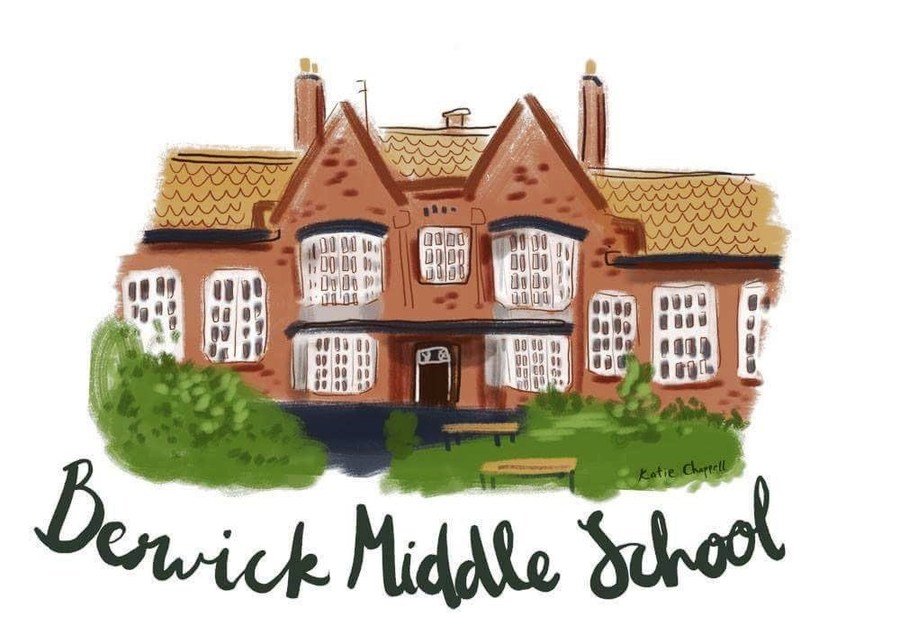 2020/21 COVID-19 School Information
Berwick Middle School Covid 19 Recovery Outline 2020/21
Please note that all plans are subject to change according to further government guidance and risk assessment and subsequent consultation with governors, staff and trade unions.
Although the plan is intended to make the school as safe as possible, no school can guarantee the safety of all, but we can do our best to reduce the risk.
Bikes and scooters must not be brought to school for the foreseeable future.
School Uniform
Full school uniform will be required from September.

The uniform policy is available on the school website.

In particular, please note that trainers and piercings are not permitted so please do not send your child to school with these.

The PTFA are organising another opportunity to buy pre owned uniform items, including footwear and PE kit that have been fully cleaned.

Donations of uniform for the shop are most welcome, please leave securely wrapped parcels in the staff car park underneath the sheltered bay

. Once ready we will email with a date and time for the shop.
Pupils will be required to wear school PE kit on days when they have PE (three PE lessons per week). The use of changing rooms are restricted due to current COVID 19 guidance. It is recommended that a change of shoes on these days would be helpful.
Please ensure all items are named so that lost property can be returned.
Pupils can wear a mask in communal areas between lessons if they wish, this is optional. Guidance on wearing a mask on school and public transport must be followed
Mobile Phones
Mobile phones

will not be permitted

in school from September as their storage and collection poses an increased infection risk.

In exceptional circumstances the school may allow mobile phones but this will be at the discretion of the headteacher.

If you wish to discuss this please contact me at school.

Mobile phones found in school will be confiscated and parents will be requested to collect phones if this happens.
School Transport
Arrangements will be sent to you from School Transport at Northumberland County Council.

If more information is released to schools we will update you on this situation.

Currently pupils in Year 7 and 8 will be required to wear a face covering on public transport.
Parent guide on the use of school transport
Pupil guide on the use of school transport
Start of the Day
The school day will start at 8.55.
Breakfast club will run from 8.00am.

This is open to all pupils with a cost of 50p per day.

Year 5 and 6 will be in the Dinner Hall and Year 7 and 8 will be in the Food Technology Room.

If you would like to book a place at breakfast club please contact the school office although, this is not necessary.
Unless pupils attend breakfast club they should not come to school before 8.30am as there will be no staff on duty to supervise.
There will be separate entrances and exits for pupils on Lovaine Terrace; via the gate next to the technology block for Year 7 and 8 and via the main school gate for Year 5 and 6. Staff will be on Lovaine Terrace each day to help pupils find the right place to go.
The above information has been updated since the first letter sent to parents.
Year 5 will congregate on the KS2 yard nearest the fields, Year 6 on the KS2 yard nearest the playground equipment.

Year 7 will congregate on the KS3 yard nearest the quiet area and Year 8 on the KS3 yard nearest the gates.

Staff will be on duty from 8.30 to help children find the correct spaces.
When the bell rings pupils line up in their classes and wait to be led into the building by form teachers.
If the weather is wet, pupils will be directed straight to their classroom. Again, staff will be on hand to assist.
End of the Day
Year 5 and 6 will leave school at 3.30.
Year 7 and 8 will leave school at 3.25.
Staff will be available to assist pupils with leaving the site and to supervise school transport.
Lunches
School lunches will be available to order via School Grid.

All new starters will receive registration instructions directly from School Grid.

Please check your spam box for this.
Year 5 will have an extended lunchtime for the first few days to help them get used to the routine and ensure that they don't need to rush their lunch.
Pupils who bring packed lunches will need to store them in their school bag.
Pupils are encouraged to bring healthy snacks such as fruit and vegetables for breaktime.

Crisps and sweets are not permitted.

Please ensure pupils have water for school, in their own water bottle.

Juice, fizzy and energy drinks are not permitted.
Lessons
From September all pupils will be provided with a personal pencil case containing basic stationary.

This is to prevent the sharing of equipment in school.

This will be left in school overnight.

If pupils wish to bring their own equipment they may do so.
Timetable
The timings of the day have been adjusted to reflect changes required to keep pupils in separate year group 'bubbles'.
Breakfast club

From 8.00 am

Pupils not in breakfast club permitted on site

From 8.30 am

Registration

8.55am

Lesson 1

9.20 am

Morning break

10.10 am

Lesson 2

10.25

Lesson 3

11.15

KS2 Lunch

KS3 Enrichment

12.05

KS3 Lunch

KS2 Enrichment

12.55

Lesson 4

1.35

Lesson 5

2.25

Wellbeing (in form class)

3.15

KS3 Depart

3.25

KS2 Depart

3.30
Wellbeing
The curriculum has been planned to ensure weekly PHSE, a daily enrichment session and a daily wellbeing session. Staff will support pupils fully in reintegrating back to full time education and more details on this will be shared in September.
Curriculum
All pupils will follow the full curriculum with specialist teaching for all pupils.

Staff are conducting risk assessments and the curriculum within subjects may be modified to ensure the safety of all.
Other aspects such as assessment, feedback and behaviour are subject to change due to current COVID 19 guidance and more information on this will be shared in September.
Visitors to School
From September the school gates will be locked from 9.00am to 3.25pm to minimise contact from visitors to school.

Visitors will need to call school to gain access.

If you wish to contact us at school please do so via email or phone and we will be happy to assist you with any queries or concerns.
Health and Safety
A number of measures will take place in addition to existing measures:
The school is organised in year group bubbles to minimise mixing of pupils from different year groups.
Classes and year groups will use different entrances and exits to the building to minimise contact between groups at lesson changeovers.
Additional cleaning will take place at lunchtime each day to ensure that hard services are cleaned such as toilets and door handles.

Wipes will be available in each room with pupils encouraged to clean their work area and equipment after use.
Additional works have taken place to increase the availability of handwashing and stations in school.
Hand sanitiser will be available in each classroom.
A pack of stationary will be provided for each pupil to prevent sharing of equipment.
Soft furnishings have been removed from designated classrooms to minimise infection risk.
Classrooms will be set with desks in rows to minimise face to face contact.
A one way system will be marked in the main school and another in the Year 5 area to minimise risk of contact.

This will be in place for lesson changeovers, breaks and lunchtimes, start and end of the day.

All pupils will be shown how to use this system by staff.
Larger lidded bins will be bought for classrooms.
Bins will be emptied at lunch and after school.
Antibacterial spray and roll will be available in every classroom for pupils and staff to wipe down surfaces and used equipment.
Parents are welcome to provide their own hand sanitiser for their child's personal use.
I realise that this information will seem overwhelming, particularly for new starters in Year 5. I would like to reassure you however that staff will be on hand to help and support pupils at all times and that nobody should worry about getting things wrong as we are all here to help each other. Plans could change based on changing government guidance but I will write to you again to communicate this. If you have any questions please contact me in school.
Ben Ryder
Headteacher
Berwick Middle School
Please remember pupils and staff returning from holidays abroad that require quarantine on return must not attend school until they have completed their period of isolation.
Could parents of pupils who have a medical condition which means they are considered vulnerable or extremely vulnerable please contact Mr Ryder to discuss their return to school.