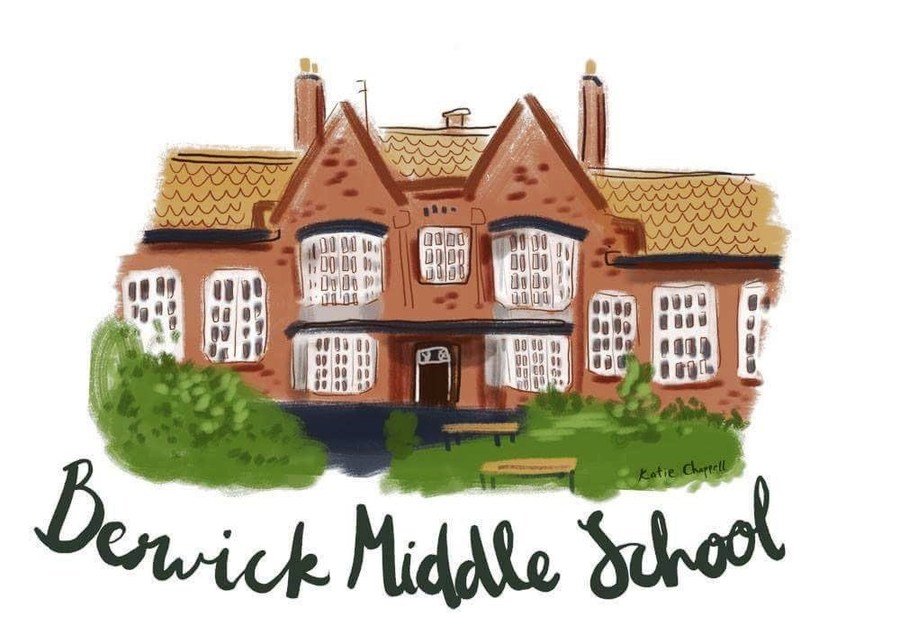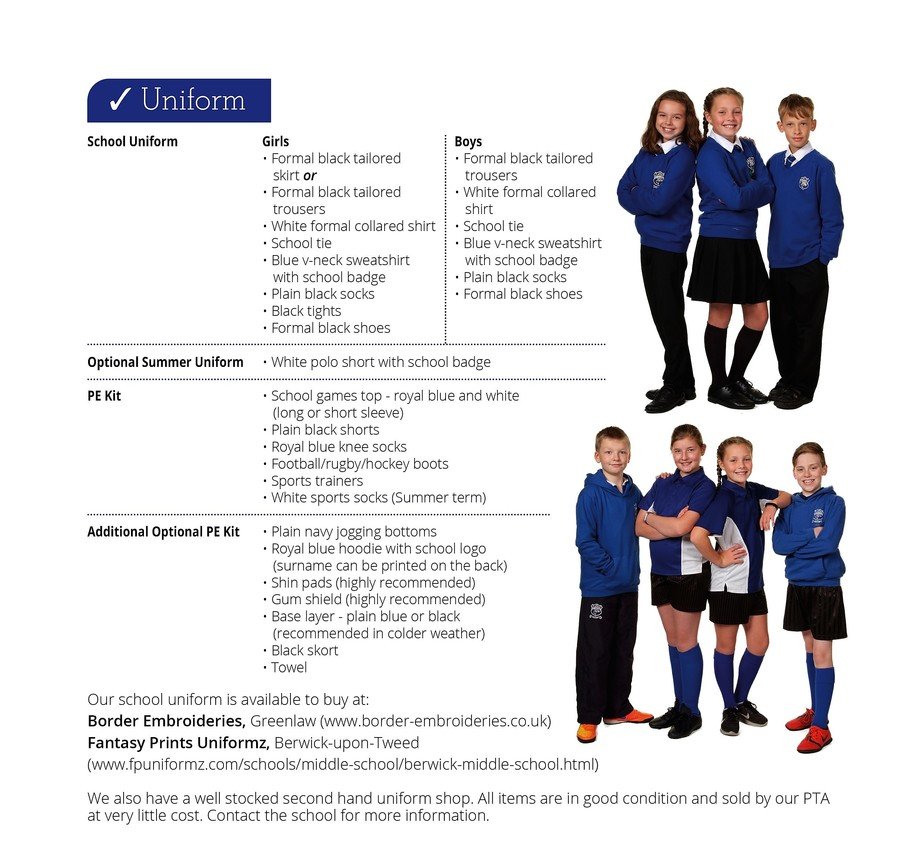 School Uniform and Equipment
The way pupils dress should at all times reflect the high standards expected at Berwick Middle School. This includes a sensible hairstyle. Hair styles must be neat, tidy and in a formal style. Parents/carers should always consult, in advance, with the Head Teacher if they are unsure as to the suitability of a change of style. Hairstyling products, hair dye/colour, shaved hair or shapes/tram lines shaved into hair are not permitted. Long hair must be tied back during some lessons such as PE, DT, Science etc. Make-up, fake tan and nail varnish are not permitted.
Our school uniform has been designed to be practical and fit for purpose rather than fashionable and more expensive. Designer wear or expensive items of clothing, school bags etc must not be brought to school. Coats and hats, not hoodies, should be worn for inclement weather.
All items of clothing must be clearly marked with the child's name.
It is very important that the children take a pride in their appearance. School uniform should be properly worn in school and during the journey to and from home. If, for some reason, a pupil has to come to school without uniform, permission must be sought by phoning the Class Teacher before the child comes to school. No child should simply arrive in school without uniform.
If in doubt about school uniform, please consult the Head Teacher before purchase.
For further details please click here see our Uniform Policy.
General Equipment
All students are expected to have a pen, pencil, pencil sharpener, eraser, calculator, ruler and coloured pencils for lessons along with their planner and a suitable reading book.
Jewellery
School is the pupils' workplace. As part of their curriculum work, they have to use machinery, tools and engage in strenuous physical activity. Jewellery can be dangerous and hazardous in these situations. In addition, jewellery can easily be lost, causing distress to the loser and much time wasted in trying to find the missing item.
Therefore, jewellery, (including earrings) is not allowed in school. Wrist watches may be worn but must be removed before PE.
Valuables in School
It is the responsibility of the pupil to look after personal possessions.
All money should be kept in a purse or wallet with the owner's name inside.

No money should be left in cloakrooms.

Larger sums of money should be handed to the office or the form teacher.

During practical lessons, purses or wallets may be handed to the teacher for safe-keeping.

Mobile phones, MP3 players,'iTechnology' any wifi enabled device or hand held games are not permitted in school. In some circumstances, by arrangement with the Head Teacher, mobile phones can be brought to school but must be switched off and handed in to the school office for safe-keeping.

School will not be responsible for loss or damage to this type of equipment if it is brought into school.

If mobile phones etc. are brought into school without permission they will be confiscated and held until parents can collect them

.