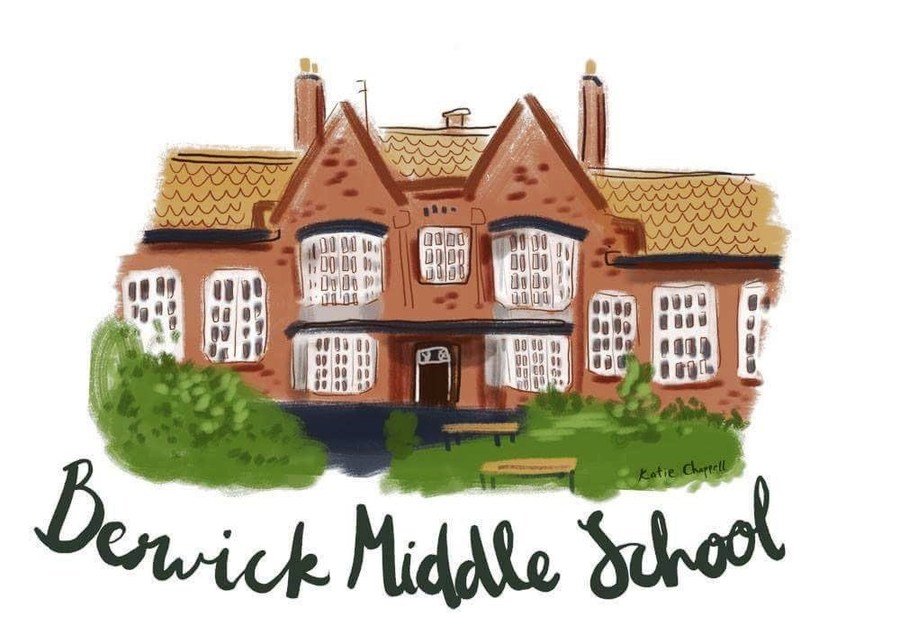 Pupil Premium
Berwick Middle School - Pupil Premium Strategy Statement 2019-20
SCHOOL BREAKDOWN

Students on roll (September 2019)

328

Total PP budget this year (expected)

KS2 £62,040

KS3 £42,075

LAC £1,600 (+ £700 held by LA)

PLAC £16,100

Service £1500

Total £123,315 (+ £700 held by LA)

Total allocation per student

KS2 - £1320 per student

KS3 - £935 per student

LAC - £2300 per student (£700 held centrally by the LA)

Service Children - £300

Students eligible

92 (28% of the school)

40 girls (43%)

52 boys (57%)

25 in Year 5 (27%)

22 in Year 6 (24%)

20 in Year 7 (22%)

25 in Year 8 (27%)

Current FSM

92

Ever 6

80

Service

5

LAC

1

Previous LAC

7
BARRIERS TO LEARNING:
BARRIERS TO LEARNING

FURTHER DETAILS

A

Attendance

The overall attendance of PP students is currently below that of non PP students. Good attendance is crucial to achieving success at school.

B

Literacy and numeracy levels

A higher proportion of PP students are also identified as having some level of Special Educational Need. Targeting improvements in literacy and numeracy levels is therefore crucial.

C

Home learning

Having access to the technology and resources required to complete homework can be a barrier, supporting access to the required resources is therefore a priority.

D

Extra-curricular opportunity

It is crucial that all children have access to the full range of extra-curricular opportunities available in order to get the most from all that school has to offer.

E

Home-school communication

Clear and regular communication between home and school will support improving outcomes for students.
PLANNED EXPENDITURE:
FOCUS AREA 1: RAISING ACHIEVEMENT

OUTCOME

ACTIONS / STRATEGIES

USE OF PP FUNDING

EVALUATION AND IMPACT

To improve literacy and numeracy across the curriculum in order to support a high level of achievement for all.

● Half termly meetings bringing together key senior and middle leaders to plan the next half term's literacy and numeracy interventions.

PP funding will be used to fund staffing time to undertake data analysis and to plan and deliver interventions.

In addition, literacy and numeracy support materials and tools will be purchased using some of this funding.

Targeted staff training and development.

● Detailed data analysis focussing on outcomes for PP students to support the identification of gaps and needs for and creation of learning passports for PP students.

● Use of literacy and numeracy development tools e.g. Accelerated Reader and TimesTables Rockstars

● Continued provision for interventions which target literacy and numeracy needs - small group and 1:1 provision as required

● Targeted staff CPD on use of successful strategies
FOCUS AREA 2: CURRICULUM AND ASSESSMENT

OUTCOME

ACTIONS / STRATEGIES

USE OF PP FUNDING

EVALUATION AND IMPACT

To ensure that the curriculum and assessment of this curriculum provide equality of access and opportunity for all.

● Curriculum and assessment review to refine existing practice in order the ensure that it fully meets the needs of all students (including review of resources used)

PP funding used to support curriculum and assessment review and the resources required for this.

Additional staffing time in order to create additional capacity to ensure smaller Maths groups in Y7.

Appropriate training for staff.

● Curriculum development groups (subject based) to develop the curriculum and ensure progression for all pupils

● Development of new assessments in KS3 (in line with assessment requirements at GCSE) in order that students are well prepared for the next phase of education

● KS2 curriculum development groups (subject based) to develop the curriculum and ensure excellent transition from Lower KS2 to upper KS2
FOCUS AREA 3: SUPPORT AND INTERVENTION

OUTCOME

ACTIONS / STRATEGIES

USE OF PP FUNDING

EVALUATION AND IMPACT

To ensure a culture of support and guidance which empowers students to be independent and focused on their own success.

● Use of PP tracking group to map and track progress in relation to the interventions in place and throughout the academic year in all subjects

PP funding to be used to support allocation of mentors and of teacher led interventions.

Resourcing and licenses for interventions used (including the ongoing research into possible new resources/programmes).

Staff training as required in relation to intervention resources

● Ongoing commitment to resourcing materials and programmes which can be used to support intervention strategies

● Ongoing commitment to researching use of additional intervention materials and monitoring strategies
FOCUS AREA 4: ATTENDANCE

OUTCOME

ACTIONS / STRATEGIES

USE OF PP FUNDING

EVALUATION AND IMPACT

To improve the attendance of PP students to ensure that it is in line with their non PP peers.

● All PP students have a target of 96% attendance which is also linked to the allocation of the PP grant

PP funding used to support admin requirements in relation to attendance and to support the work of the home-school link worker

Attendance rewards

● Targeted monitoring of the attendance of PP students and attendance to be incorporated into SLT meetings

● Rapid intervention when attendance falls below 96% - range of strategies in place
FOCUS AREA 5: ENRICHMENT

OUTCOME

ACTIONS / STRATEGIES

USE OF PP FUNDING

EVALUATION AND IMPACT

To ensure that all students have the opportunity to access and follow a full and diverse enrichment programme that engages and inspires them.

● Inclusion of a wide range of additional enrichment activities in the curriculum for all students e.g. drop down days, house matches, careers weeks etc. involving a wide range of business and industry partners to engage, motivate and inspire students

PP funding used to help subsidise some of the enrichment activities on offer and to support individual PP students to access these opportunities.

● Targeting of PP students to be involved in a wide range of enrichment activities

● Financial support to access enrichment activities, including music lessons, trips, residentials, resources etc
FOCUS AREA 6: LEADERSHIP AND PROFESSIONAL DEVELOPMENT

OUTCOME

ACTIONS / STRATEGIES

USE OF PP FUNDING

EVALUATION AND IMPACT

To ensure that the PP strategy is led by a member of the SLT and that all staff are fully aware of the role that they play in supporting the achievement of PP students

● Members of the Senior Leadership Team with specific responsibility for leading and driving the PP strategy forward and in ensuring that all staff have the appropriate knowledge and expertise to support this process

PP funding used to support staffing and training needs required in order to be fully up to date with local and national expectations re PP provision and to be aware of emerging strategies deemed to be successful in supporting PP students

● Whole school PP strategy embedded and that is efficiently communicated within and beyond school (including parents)

● To sensitively and appropriately increase awareness of the needs and requirements of the PP cohort in order to support improved educational outcomes for them

● To actively engage, as a school, with the wide range of additional PP developments locally and nationally e.g. PP conferences, network meetings, workshops etc. and to contribute to these forums as and where appropriate
FOCUS AREA 7: EQUALITY OF ACCESS

OUTCOME

ACTIONS / STRATEGIES

USE OF PP FUNDING

EVALUATION AND IMPACT

To ensure that all students have full access to the range of opportunities on offer in school and to engage PP students and their families in decision making in relation to these opportunities

● Allocate all PP students with a personal budget that can be used to support access to education opportunities in discussion and agreement with school - e.g. to subside visits, buy resources or uniform, fund home-school learning (including access to technology)

Allocation of budget to support each PP student

● Positive targeting and encouragement of students to take part in and attend school based activities that may otherwise not be considered possible